Summer has come to an end and it's time to rack up a couple of outfits we have in mind for our first week back at school. As you stumble upon your closet, you realize maybe the linen pants, tube tops, and oversized button-up shirts were clothing more suited for your summer vacation. Bright, colorful pieces transform into more neutral tones and your wedge, platform sandals convert into loafers and chunky sneakers. Crochet tops and tube tops are cute and all, but I think you're better off wearing them somewhere else than your usual cold classroom.
We owe a big thanks to TikTok and Instagram for keeping us up to date with our latest Fall 2022 trends and eye-catching clothing pieces. You can expect the most significant fall trends to be more sleek, refined, and simple looks. These "old-money" pieces will make you look effortlessly gorgeous and professional.
OVERSIZED BLAZERS
If there's anybody in this world who absolutely rocks oversized blazers, it's got to be Hailey Bieber.
Oversized blazers are perfect for a business casual, relaxed look and are definitely a wardrobe essential. As the weather gets colder and you're forced to sit through an hour or two of class with the air conditioning feeling below 60 degrees Fahrenheit, these stylish pieces will do the trick of keeping you cozy.
Matching with same-colored wide-leg trousers is a plus, as it'll give you a lavish, effortless appearance. Plus, who doesn't want to look as stylish as Hailey Bieber? I mean, look at her! Companies such as Zara, H&M, and ASOS are well known for selling these popular pieces. My recommendation: Make sure to go online and throw some blazers into your shopping cart before they go out of stock!
LEATHER JACKETS
Although leather jackets have been in style for a while, you need to have this flexible wardrobe essential for the upcoming cold weather. A leather jacket, whether real or fake, is a must-have item as the colder months approach. It adds a stunning finishing touch to any ensemble and is the most fashionable and adaptable method to remain warm when the fall weather turns chilly. Whether that be with a vest top underneath and leather pants to match it, leather jackets are easy to style and are great at giving you that "street look" appearance.
Something as simple as throwing on a white tee, denim jeans, and boots can be topped off with a leather jacket to give you that chic, finishing touch. Bella Hadid herself has mastered the art of styling her outfits with leather jackets and leather trench coats. The look is simple and casual, yet particularly elegant.
PLATFORM BOOTS
I don't know what side of TikTok you're on, but every single going outfit I see on that platform involves some sort of platform boots. And I don't blame them! They're extremely stylish and give you the ideal "street style" appearance and are perfect for a night out. I'm not so sure about comfort, though. You might get tired of them after a long night of dancing or walking around.
These platform boots contain a variety of elements, such as side-zip closures, lace-ups, patent leather, or buckles. They are somewhat inspired by the "goth core" movement. If you want to get the year 2000 aesthetic, this is a terrific core piece. Addison Rae and Olivia Rodrigo, two celebrities, were spotted walking around with these enormous platforms while wearing abstract shirts and miniskirts. Not only are these platform shoes fashionable, but they also follow a retro fashion trend and give you extra height. Who wouldn't love that?
WIDE LEG TROUSERS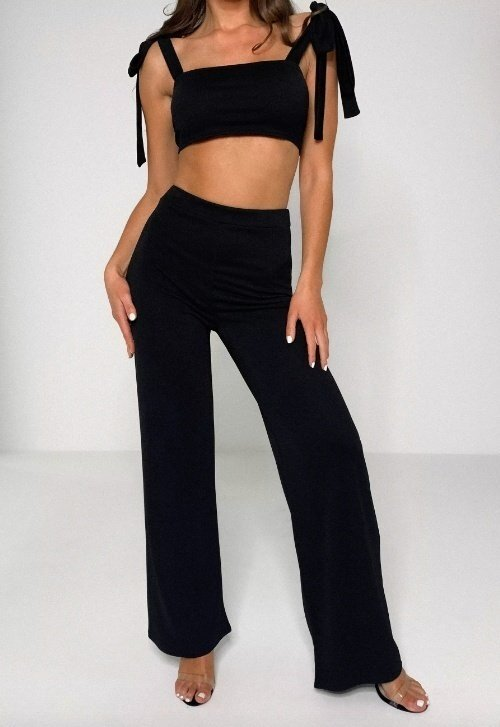 This must be one of my favorites, to be honest. In my closet, I think I have five of these. These pants give you a sophisticated and carefree image and are a true classic staple. Due to the dramatic look they give you, wide-leg trousers have been seen on the runways for well-known brands like Louis Vuitton and Jacquemus.
You can find them in pleated, buttoned, low-, and high-rise styles, among others. You may develop a timeless look by relying on wardrobe fundamentals like button-down shirts, basic tees, and plain sneakers to pair with these wide-leg trousers. I promise you that you'll get more than three compliments when you wear these pants. They make you feel at ease and offer you a polished, laid-back appearance that is both stylish and effortless. Just give them a shot, I promise!