Harry and Olivia. On a date. It isn't groundbreaking stuff, but can you blame us in being interested in what these two wear when they want to, you know, make a bit of effort? Although from the looks of things, the couple takes a pretty low-key approach. And why not? Styles loves nothing more than wearing a bit of hot pink leather on stage, but to a neighbourhood pizza place? He's more comfortable tying his hair up and throwing on a colourful shirt that's probably from Bode, one of his favourites. As for Wilde, who must be enjoying the summer break from the red carpet circuit, she choose a navy tee, a printed skirt and a pair of trainers, side-stepping a designer bag for a canvas tote from The Vampire's Wife.
Neither of them looks put together – perhaps suggesting a level of comfort that comes when you've been with someone for a while and don't feel the need to wear something spectacular every time you see them – or overly dressy. Their choice of restaurant is also interesting, Rubirosa, a pizza joint that's famous for its 'tie-dye' pizza (a pizza topped with a juicy swirl of pesto) in SoHo. It's much less scene-y than, say, Carbone, which might hint at the fact that they don't want to be seen so much as spend time together.
The two are gearing up for the promo tour of Don't Worry Darlings, the film directed by one and starring both, which will premiere at the Venice Film Festival. So they'll be back on the red carpet (and hopefully wearing something just as iconic as hot pink leather). For now, we hope they ordered the tie-dye.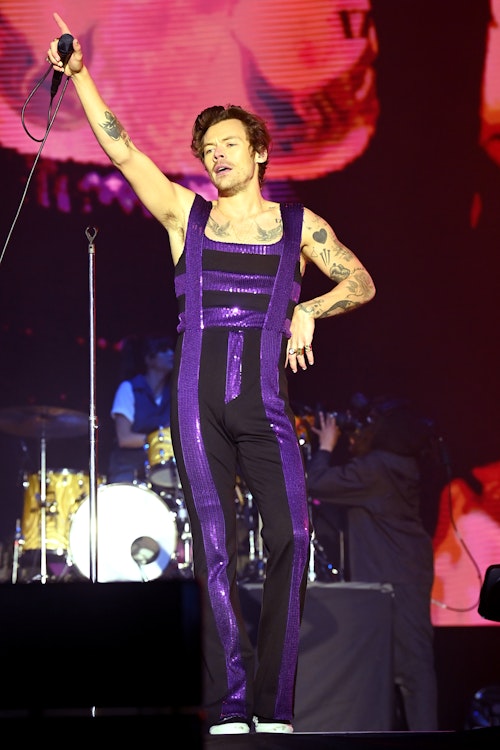 1 of 31
Wearing another custom Arturo Obegero sequin jumpsuit – this time in purple and black – for BBC Radio 1's Big Weekend in Coventry, no less.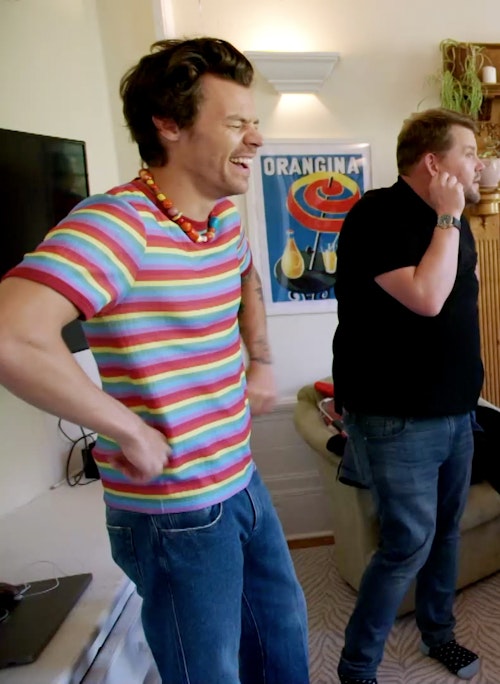 2 of 31
When filming with James Corden for The Late Late Show, Styles wore a custom Gucci striped tee, flared jeans and a beaded necklace by Eliou.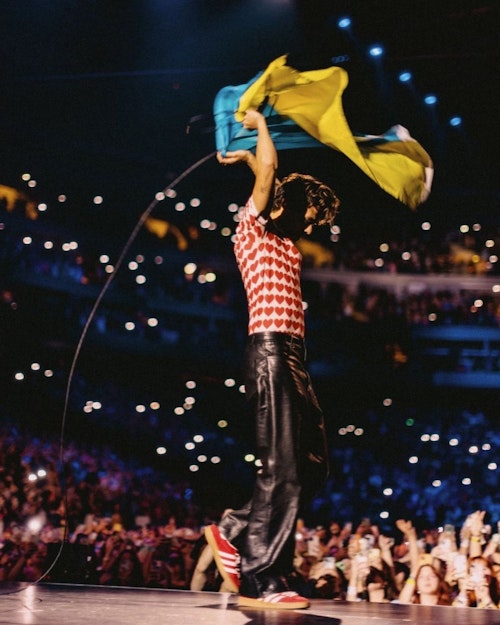 3 of 31
CREDIT: Harry Lambert
And the pop star wore Gucci (duh) – this time paired with the highly anticipated Adidas x Gucci sneakers.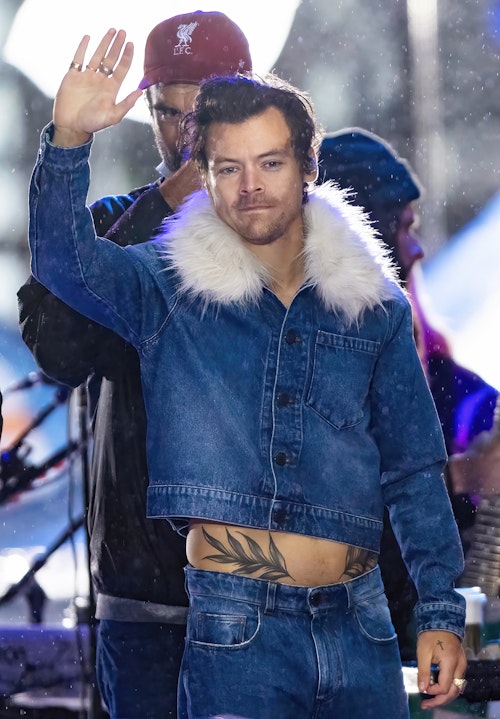 4 of 31
No thoughts just midriff…In a custom AMI Paris jacket and jeans for rehearsals ahead of his Today Show performance.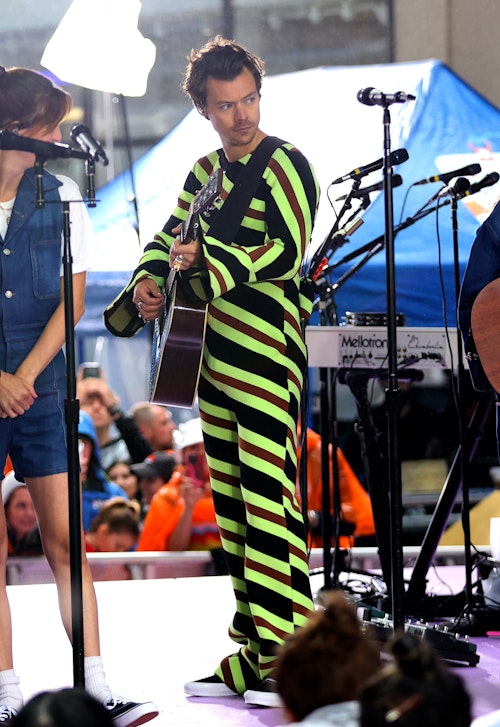 5 of 31
In further jumpsuit news, Harry wore a custom JW Anderson jumpsuit inspired by its resort 2022 collection.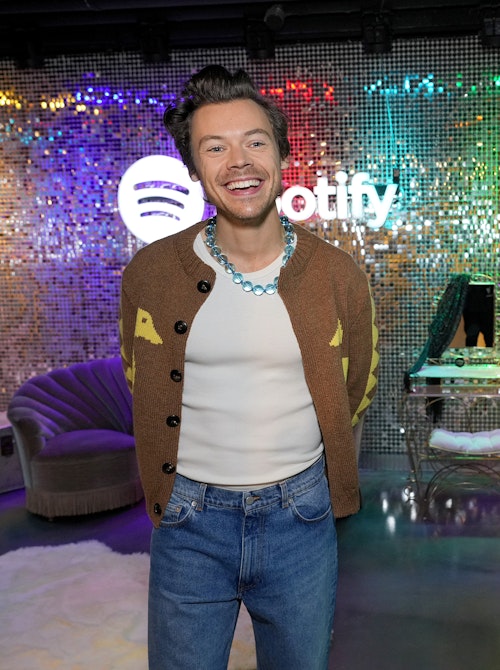 6 of 31
A more casual look for Mr Styles in an S.S. Daley duck sweater (which is available to pre-order on its site) for the Spotify listening party ahead of the Harry's House album release.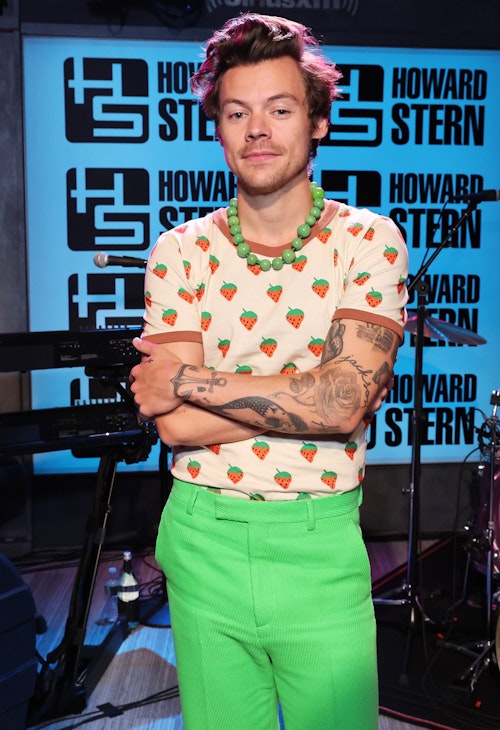 7 of 31
The Watermelon Sugar singer turned to Gucci for this custom strawberry tee paired with bright green trousers. Yum.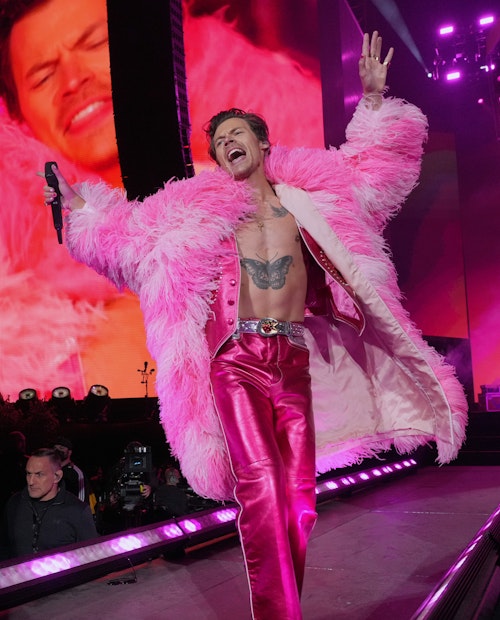 8 of 31
No this isn't a fever dream. For Harry's second headliner weekend performing at Coachella, he of course opted for custom Gucci to perform with Lizzo.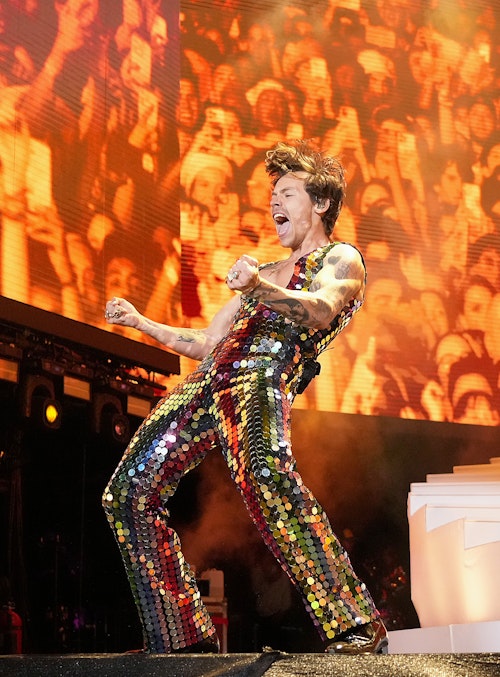 9 of 31
To kick off his headliner gig at Coachella 2022, Harry Lambert worked with Gucci to produce a series of custom looks complete with fluffy coats and plenty of sequins.
10 of 31
In custom Arturo Obegero sequin jumpsuit for new single As It Was, styled by Harry Lambert.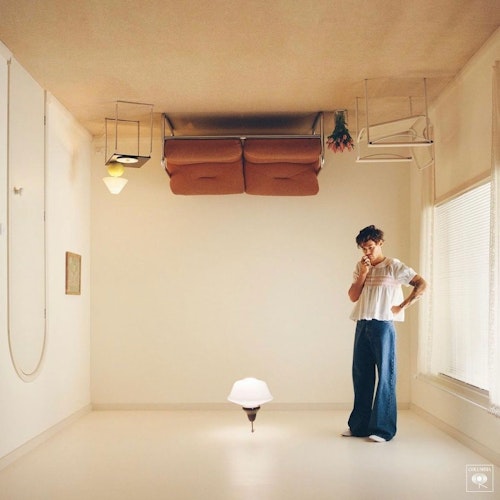 11 of 31
Styles wears custom Molly Goddard, almost identical to the look worn by Edie Campbell in the SS22 collection, for the cover of his latest album Harry's House.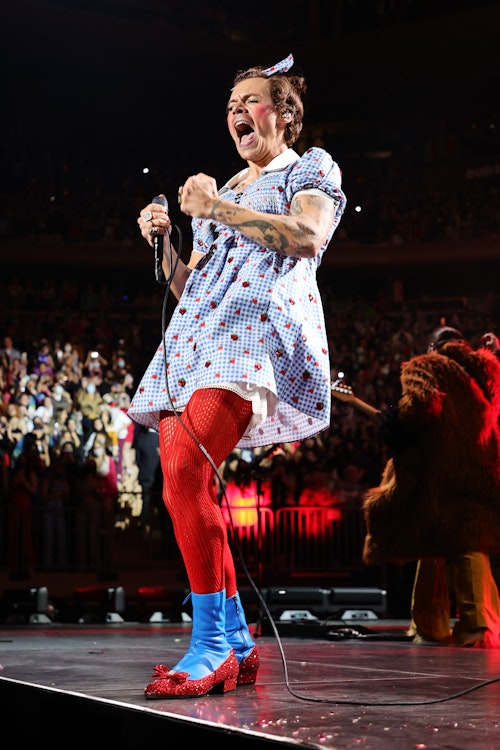 12 of 31
Harry performed onstage at his Harryween Fancy Dress Party at Madison Square Garden in New York City, dressed of course, as Dorothy (a Gucci creation, natch)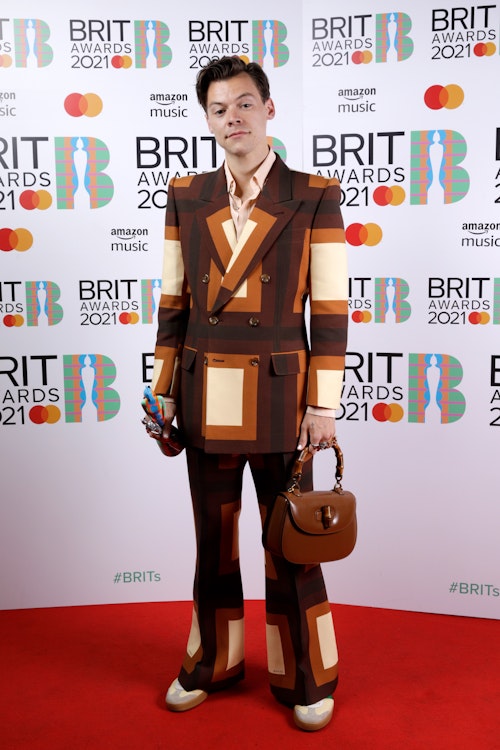 13 of 31
As he picked up the Mastercard British Single award for Watermelon Sugar at the BRITs 2021, Styles donned a psychedelic suit from Gucci.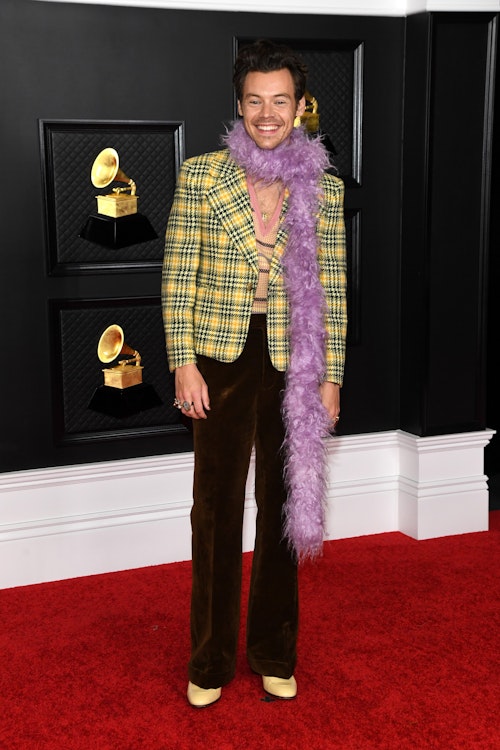 14 of 31
Ahead of opening the show, Harry made a case for feather boas on the Grammy red carpet.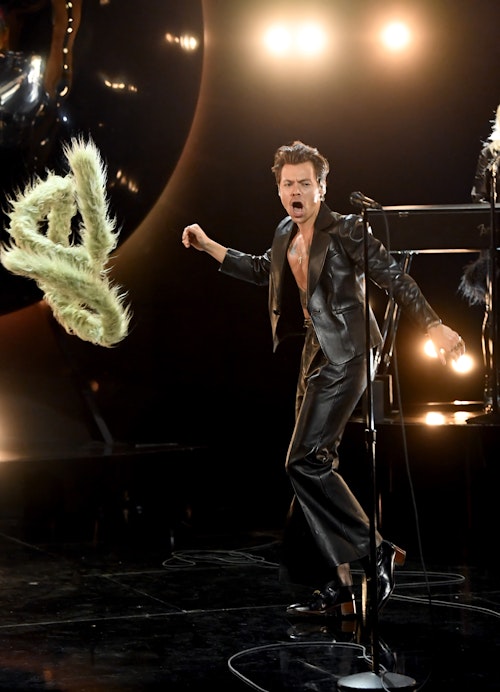 15 of 31
Honestly…there are no words.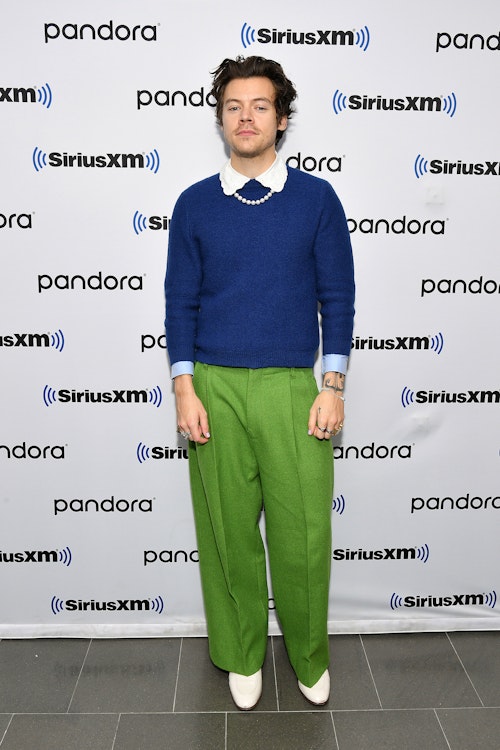 16 of 31
His famous pearl necklace made an appearance on the star's visit to the SiriusXM studios, sending fans (and us) wild.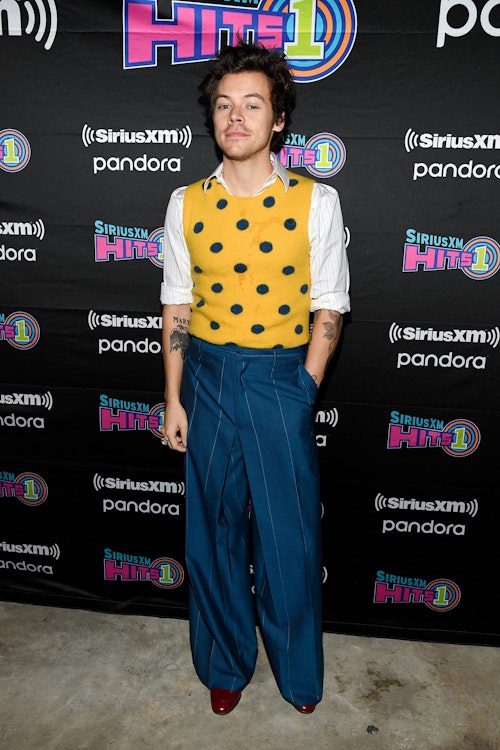 17 of 31
Further proof that we all need a sweater vest + baggy pants combo – make like Styles and go for polka dots.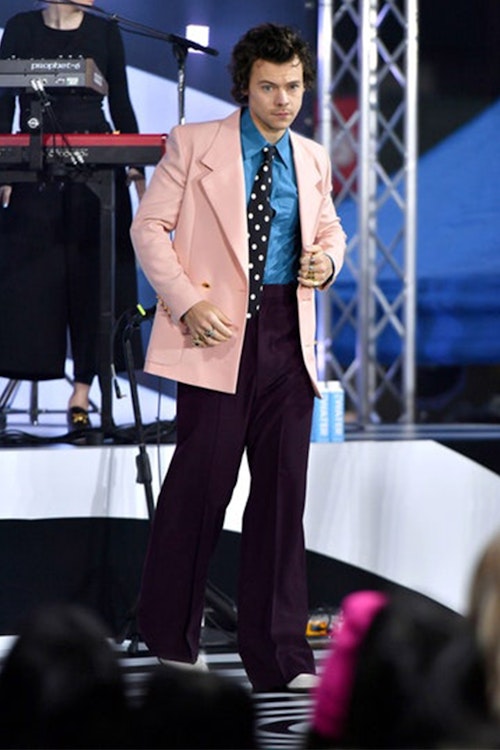 18 of 31
The Watermelon Sugar singer selected sherbet shades for his Today Show performance in 2020, but it was his rehearsal outfit that went VIRAL…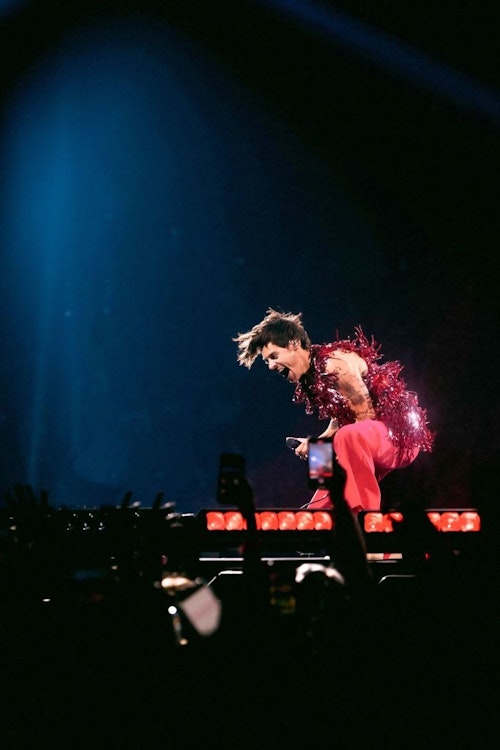 19 of 31
2021 – the year that Harry really nailed his on-stage style.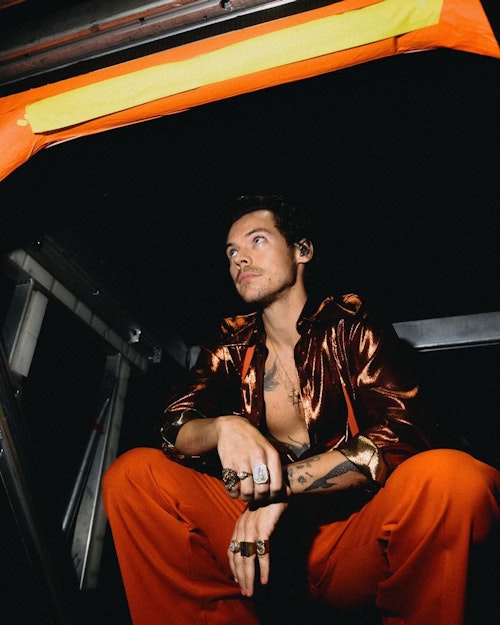 20 of 31
A rare glimpse at HS backstage (aka, my new phone wallpaper).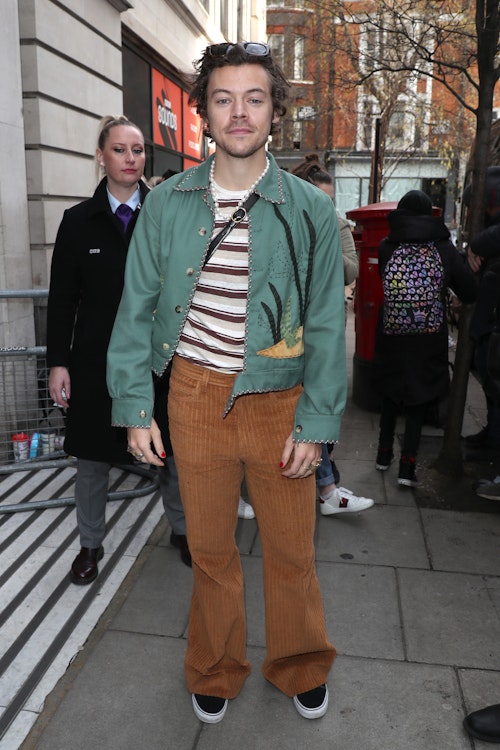 21 of 31
Leaving the BBC Radio 2 studio in February 2020, Styles wore Gucci trousers and a jacket by Bode, a fashion insider favourite renowned for its folky, patchwork designs.
22 of 31
School girl shoes. Pearls. A brown suit. It shouldn't work, but in the world of Harry Styles, it blasts everything else on the red carpet out of the water.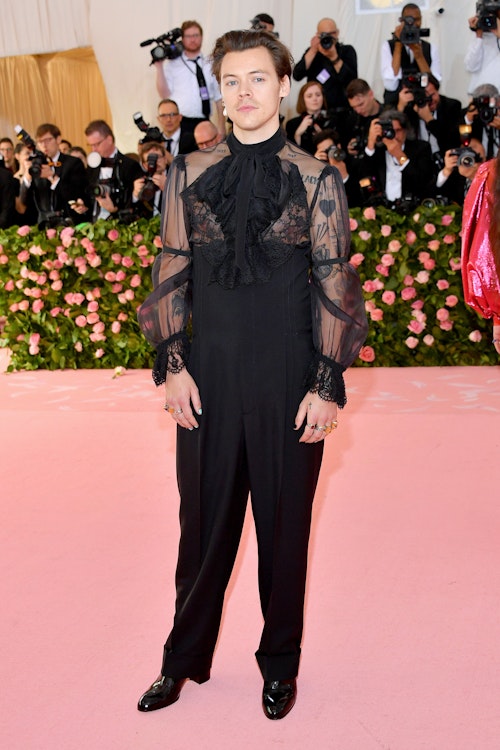 23 of 31
Styles cemented his status as a fashion insider at the 2019 Met Gala, which he co-hosted with Lady Gaga, Serena Williams, Anna Wintour and Gucci's Alessandro Michele, who also dressed him on the night.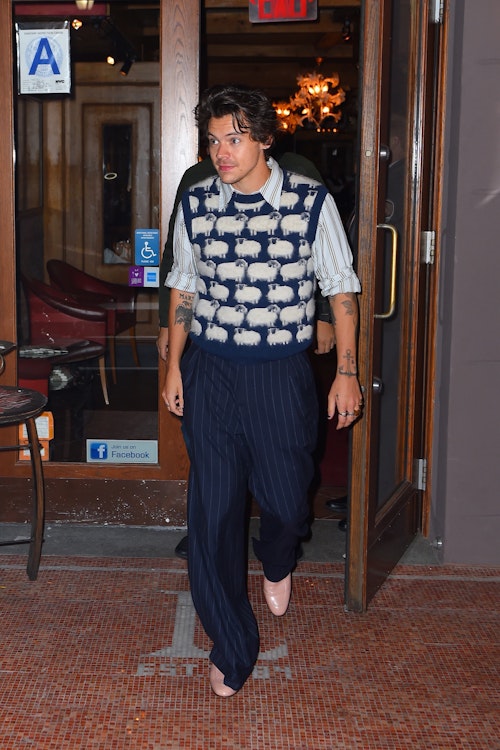 24 of 31
You see a knit your grandma might have made you; Harry sees an opportunity in this Lanvin sweater vest.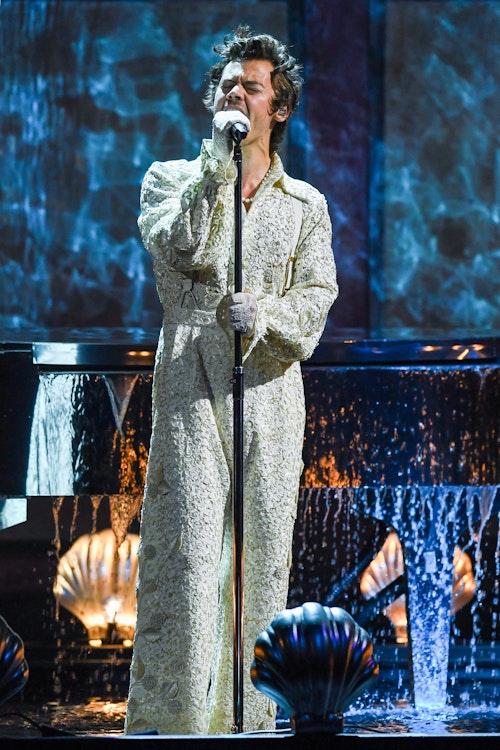 25 of 31
Performing Falling at the BRIT Awards 2020 in custom Gucci, Harry wears a lace jumpsuit (and matching gloves!) with all the ease of jeans and a T-shirt. Unpredictability score: 10/10.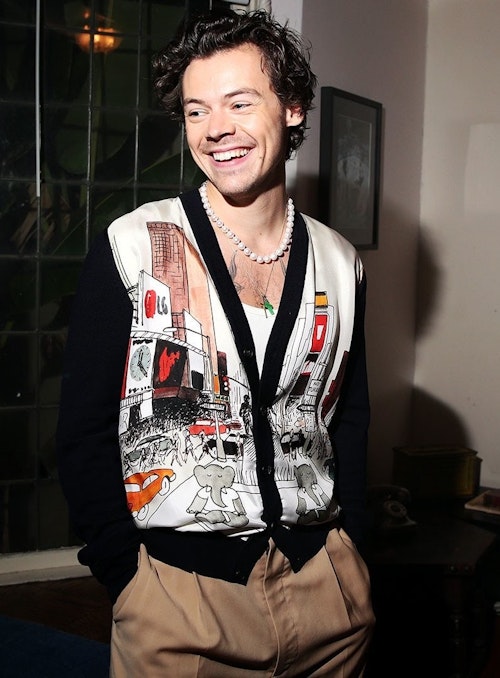 26 of 31
A silky cardigan and string of pearls might sound like they belong at the country club, but Harry gives them rock and roll swagger at a Spotify party to celebrate the launch of his album. The cardi is Lanvin, FYI.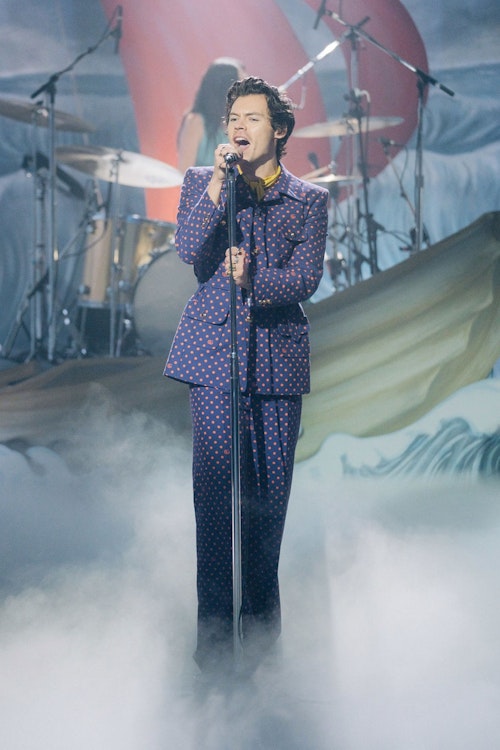 27 of 31
Yes, it's more Gucci and no, we still can't get enough of it on him. Performing on The Late Late Show Styles showed some boybanders do know how to do tailoring.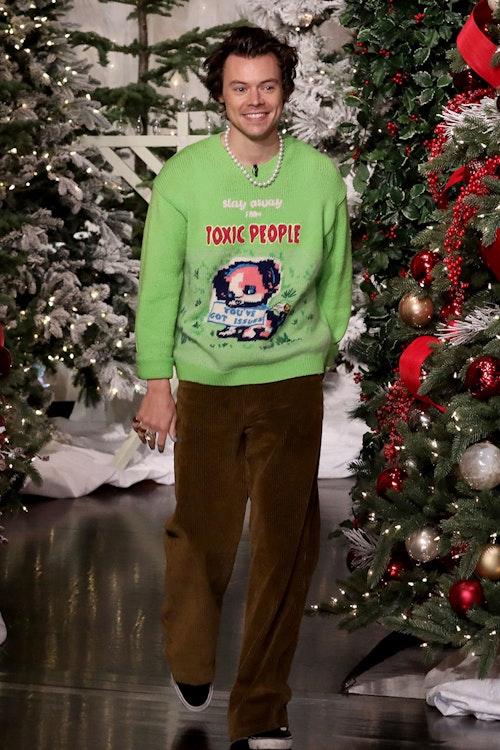 28 of 31
'Stay Away From Toxic People' it says on Harry's Marc Jacobs x Magda Archer lime green sweater, which he wore on The Ellen Show. You don't have to tell us twice…
29 of 31
Another day, another knockout Bode jacket. Leaving the Live Lounge he also wore a Self-Love tee, a collaboration between Harry and Gucci. As if we could love him anymore, a portion of proceeds from the sale of the T-shirts was donated to the Global Fund for Women.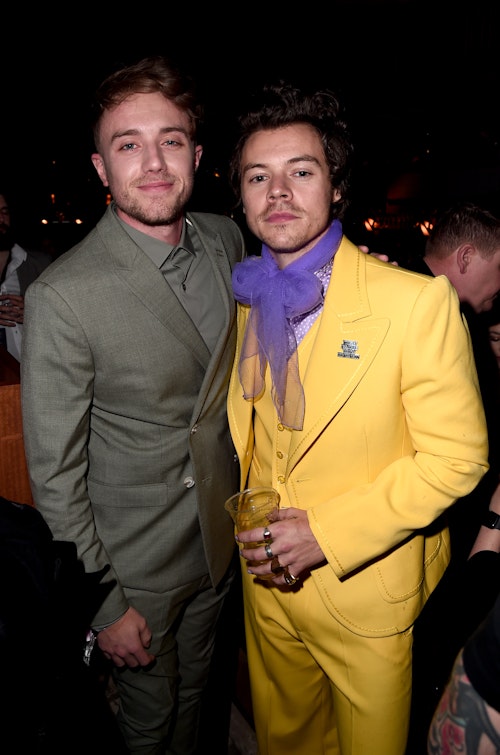 30 of 31
Rules? What rules? Styles wore a daffodil yellow suit from Marc Jacobs' SS20 womenswear collection for his first appearance as a solo artist at the 2020 BRITs. We bow down.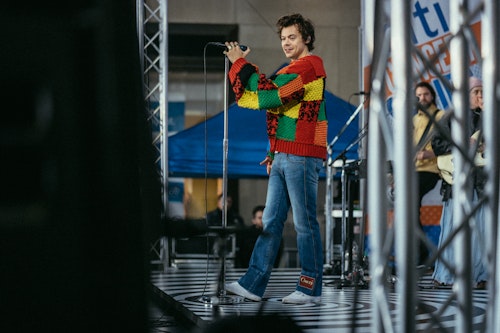 31 of 31
The JW Anderson crochet cardigan that sparked a worldwide crochet trend (mainly on TikTok) and had us all phoning up granny asking for a patchwork knit, stat.